Here's how the New Fraud Prevention Service works:
When potential fraud is detected, you will receive an automatic email notification, with the option to respond and confirm fraud or no fraud.

One minute after the email, you will receive a text alert, which also has the option to respond and confirm fraud or no fraud.

If there is no response received, you will then receive automatic phone calls to confirm or deny fraud. If fraud is confirmed or if there is a failure to authenticate your identity, you will be connected to a fraud analyst.

Below are notification examples:
EMAIL
If your email address is on file, emails are sent immediately to our cardholders 24 hours a day, 7 days a week when suspicious transactions are authorized on your card. When the cardholder replies to the email, the reply will be sent to the Fraud Center Mailbox. In the body of the email, you can respond to the email with Fraud or No Fraud using the hyperlinks in the email. Examples are included below: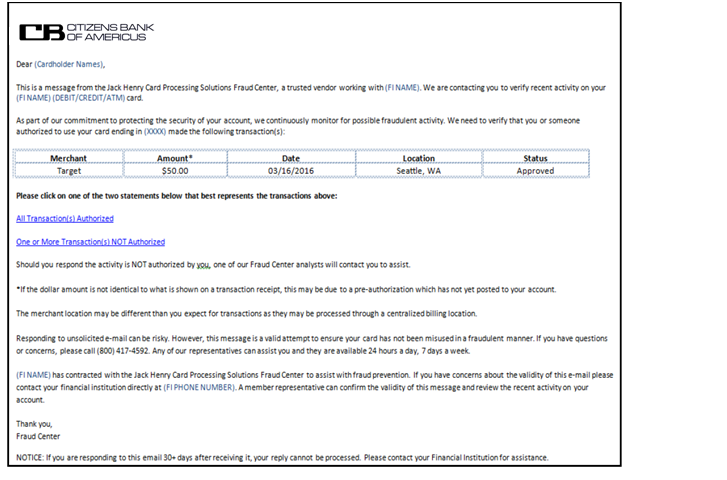 Email Reponse you will receive if confirmed as NOT FRAUD - Transaction is Genuine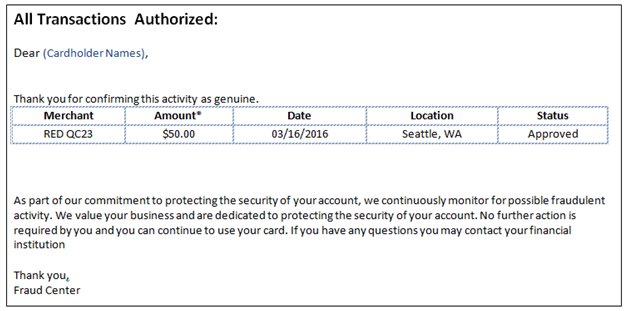 Email Response you will receive if transactions confirmed as FRAUD:



SMS TEXT MESSAGING
If we have a phone number that is SMS text message compatible, a text message is sent to the cardholder within a minute of the email, if there was no response to the email. All numbers that support text will be sent a text message, which will include one transaction. This service does not require a separate cardholder enrollment. SMS texts are sent free to end user (FTEU) and are delivered 7:00 a.m. to 9:00 p.m., based on the local time of your area code.
The SMS text message short code is 32874. This is the number that will show when a text message is sent. Cardholders can opt out of receiving SMS texts anytime by responding STOP to a text message. SMS text message examples for Confirmed No Fraud and Confirmed Fraud are included below.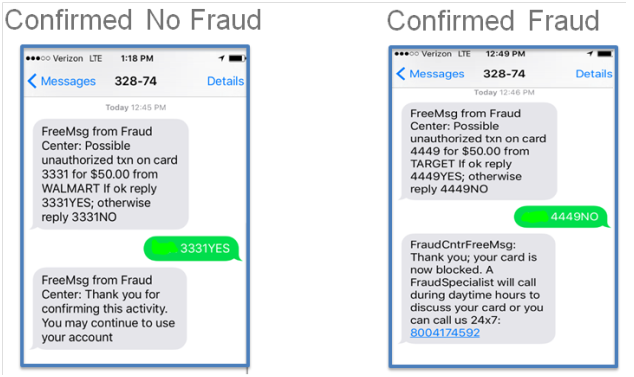 VOICE CALLS
If there is no response to the emails or SMS text messages, voice calls will be made to the phone numbers we have on file for you. The Caller ID from the auto-dialer will display the 1-800-417-4592 phone number. A name will not be displayed. The automated phone calls that go out to our cardholders will say "This is the Fraud Center calling for <Cardholder name>. We need to verify recent…"
Cardholders are asked to review up to five transactions. Merchant descriptions are provided with an option to play the merchant name. A voicemail is left if the cardholder does not answer the call.
The calls are placed between 8:00 a.m. and 9:00 p.m., based on the local time of your area code, and if you confirm the transactions as fraudulent, you will be connected to a fraud analyst.
Responding to an email, text message, or auto-dialer call, is the best and fastest way to report fraud.
If you are unsure of what to do or uncomfortable responding to these options, please contact us during normal banking hours at 229-924-4011. Warning: Your card may be blocked if transactions are suspicious and you do not respond.